We are located at Winneba,
Gomoa Pomadze in the
Central Region of Ghana.
Nanumba People Group, Northern Region – Ghana
The Nanumba are located in eastern Ghana, primarily in the northern part of the Bimbila district, between the White Volta and Oti Rivers. Their language, also called Nanumba, is identical to a Gur language known as Dagbani. Many Nanumba also speak Hausa as a language of trade.
Although Nanumba claims to be an independent state, it has always been closely associated with its more powerful sister-state, Dagomba. Due to tribal wars, especially with the Konkomba, the population of Nanumba has recently been reduced significantly … continue reading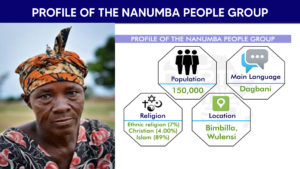 Wala People Group, Upper West Region – Ghana
The Lobi-Wala occupy the Black Volta region where the countries of Ghana, Ivory Coast, and Burkina Faso meet. They actually form two separate groups: the Lobi (named for their language), and the Wala (named for the area, Wa, in which most of them live). Because the Lobi and Wala share many similarities in language, location, history, and culture, researchers often group them as one people: the Lobi-Wala. Both groups speak their own dialect of the Gur language, which belongs to the Niger-Congo language family.
In the 1600s, the Wala lived in Mamprusi and established control over the Dagari and Lobi peoples. They settled in Wa, northwestern Ghana. In the late 1700s, the Lobi migrated from Ghana to their present location due to pressure from larger groups in the area … continue reading