Declare His glory among the nations, His wonders among all peoples (1 Chronicles 16:24).
Indeed, God has been faithful throughout the year 2022. There is no doubt that 2002 was characterised by global economic hardship. God be the Glory for all the glorious outreaches for 2022. The year 2022 was rolled with the theme, Declaring God's Glory among the Nations.
The outcomes for the year's outreaches show that the FHI missions team building movement and the early January missions team leaders' retreat and training significantly impacted outreaches. In the end, the FHI ministry undertook six (6) outreaches: Go-North Missions among the Nanumbas and Walas, Commission on Missions at two Senior High Schools, and Let's Break Bread at Osu and Kasoa. All witnessed the ministry declaration of God's Glory among the Nations in sharing the Gospel with three thousand six hundred and eighty-one (3681) people. Out of the number of people who heard the Gospel, three hundred and ten (310) gave their lives to Jesus Christ. Moreover, FH had the privilege to embark on the Missions Awareness Campaign (MAC) at the University of Ghana, University of Education, Winneba and Abelemkpe Presby. all praise to God for enabling FHI to mobilise Seven (7) new people to join missions team. A missions' team picnic was also organised to strengthen the fellowship of the existing missions team.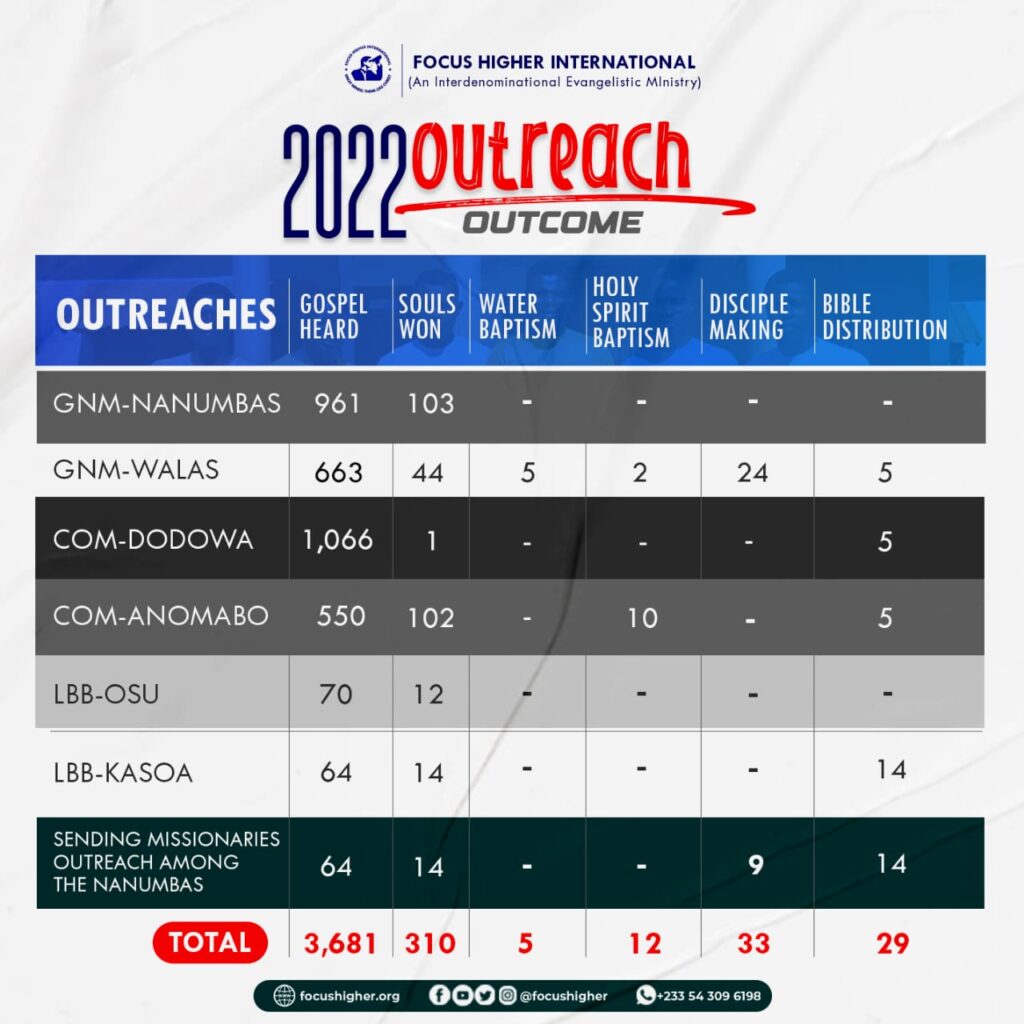 The God-glorifying moment of the year is the testimonies of encounters of healing and deliverance. By God's grace, FHI started many disciple-making groups of thirty-three (33) new people among the unreached Nanumba and Wala people groups in northern Ghana. The in-person Praying Through Summit (PTS) yielded much participation and fervency of prayers for missions. The monthly online prayers dubbed "Let's Pray" were an excellent wheel for our successful missions though out the year.
Currently, our National Service Persons are done. Our brother Michael has returned to Accra in search of a Job, and Joshua will be staying under the Christian Voluntary Missions Service (CVMS) to help with the work. With constant pressure from family and other needs, our brother Seth had to leave mid-stream in the spiritual year to Accra for work to make a living. As a result of these happenings, we have only three (3) missionaries serving full-time who are residents of Gimam, Kpayansi and Pudua communities in the Wulensi district.
Praise the Lord for all the resources made available to the Ministry for the year. The Ministry raised 63% of the target funds of 120 000 Ghana cedis for the year. In the first quarter of 2023, our audited financial statement will be duly published. This annual report presents an account of our stewardship to God and the cherished beloved partners and FHI family. I pray the report will enrich our relationship as a family that believes in Missions. Thanks very much, and God richly bless you for your partnership and support.  Remain Blessed.
Author: Samuel Kofi Asiamah ( Executive Director)