"Some of us are senders, and some are goers. Neither is more important than the other; neither is possible without the other." David sills.
FHI continues to preach the Gospel of Jesus Christ to the neglected, forgotten and unreached people group through outreaches. Likewise, we are helping many young people to deepen their relationships with the Lord through our missionary works.
FHI is passionately persuading you to participate in what God is doing by asking five (5) friends or family members to give a free-will donation to support FHI Ministry. The donation can be sent using the below bank account and Momo details.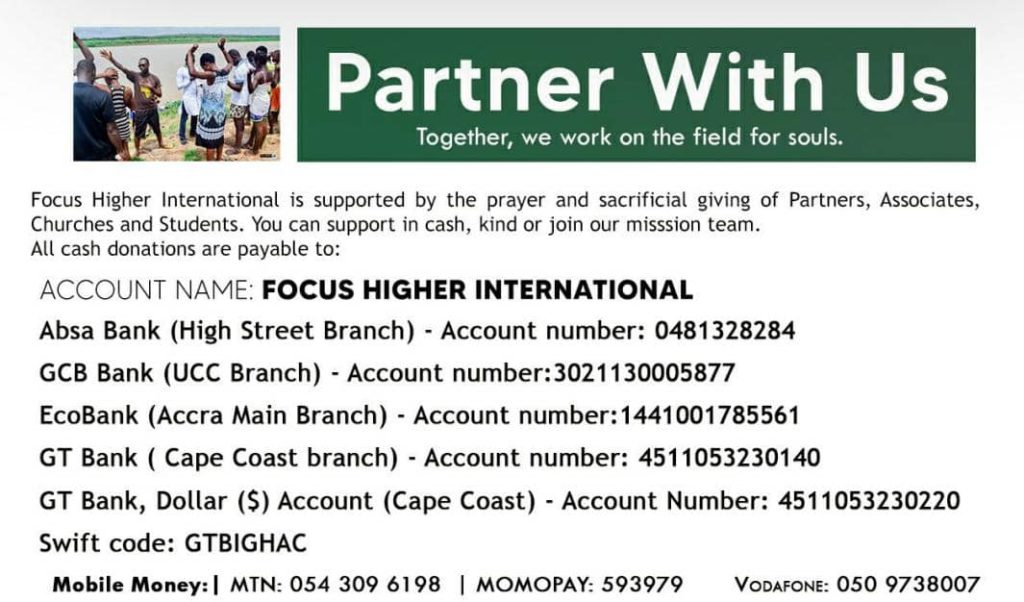 The proceeds of this project will be used to support the Commission on Mission and Go-North Missions 2022.
STEPS TO RAISING FUNDS THROUGH 5 FOR FREE-WILL DONATION
#1. Be passionate about the purpose of the project, which is to raise support for proclaiming the Gospel to the nations and reclaiming the North of Africa for Christ.
#2. Pray that the Holy Spirit will use you to mobilise resources needed for the outreaches.
#3. Make a list of five (5) family and friends who are Christians. Don't underestimate anyone's ability to give.
#4. Gather the necessary information about the FHI's ministry outreaches. Potential givers may ask questions before giving.
#5. Send FHI outreach flyers, previous reports and brochures to the family and friends on your list. You could request fundraising letters, and FHI will send them to you via email or WhatsApp.
#6. Pray for the people on the list before approaching them.
#7. Use every possible way to ask them to support the FHI ministry. it could be done through email, social media or face to face.
#8. Encourage all the people who receive the information to give what the Lord lays on their hearts. Remember, no amount is too small.
#9. Follow up on them intermittently.
#10. When they give, appreciate them and assure them that you will keep them updated on the progress of the missions. Deposit all money received into any FHI's bank accounts or send it through our mobile money platforms.
#11. If they cannot give, assure them of your prayers and keep them updated on the progress of the missions. They may give in subsequent missions.
#12. Kindly forward the names and contacts of all the people who gave and those who couldn't give to us. we want to appreciate them and keep them informed about the FHI missions.
If you ask God to use you to raise funds for missions, you will be surprised that FHI will receive funds through you. Likewise, If you ask five friends to support FHI with free-will donations ( 5, 10, 20, 50 or 100 cedis/$ or more), FHI will receive support to push missions further. The target for this fund raising project is GHS 50, 000 or $ 6, 500.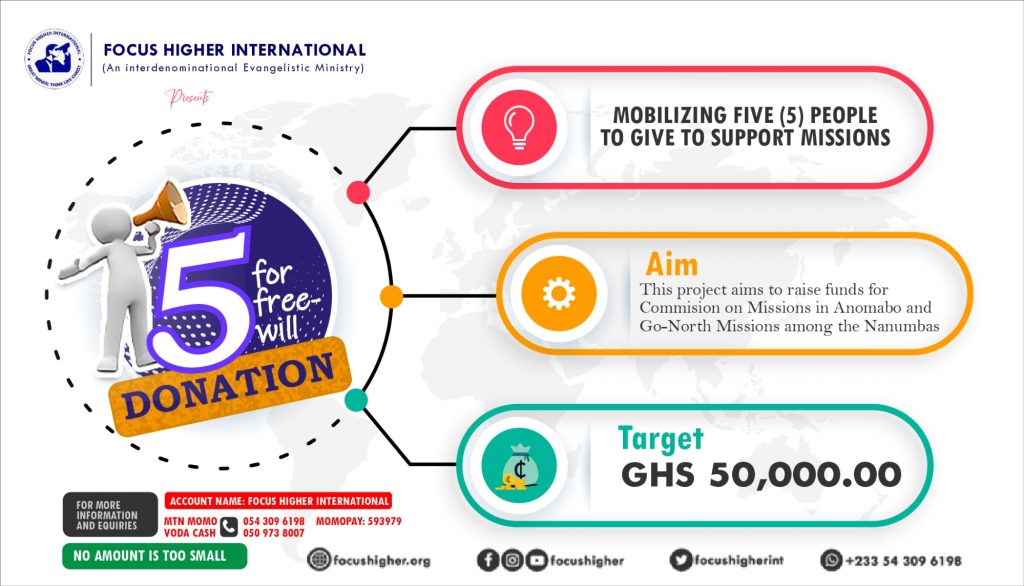 Thanks for the support, and God richly blesses you.
Together with you; we can push missions further