And they went out and preached everywhere, the Lord working with them and confirming the word through the accompanying signs. Amen. Mark 16:20
The Lord continues to work with the FHI missionaries using Go-North Missions to reclaim the north of Africa for Christ. This is evident in the report of the FHI missions' team that went into the Frafra people group in the Upper East Region of Ghana.
Initially, the missions planned to reach out to the Kuasis people, but in partnership with our host church, the Church of Pentecost, they decided to settle in the Dorungo District, which had many Frafras in the settlement. The twenty-one (21) days of missions, which took place from September 17 to October 8, were attended by thirteen (13) missionaries, of whom seven (7) were indigenous missionaries from Dorungo and the remaining eight (8) were missionaries mobilized from the southern part of Ghana.
Daily, the team proclaims Jesus through evangelistic activities such as dawn broadcasting, house-to-house evangelism, film shows, gospel rallies, school outreach, and sports evangelism. At the end of the missions, a total of three hundred and nineteen (1,319) people heard the gospel, out of which one hundred and fifty-two (152) people gave their lives to Christ, thirty (30) people were baptized in water, and seven (7) people received the Holy Spirit baptism with the initial evidence of speaking in tongues. The team made nine (9) disciples of our Lord Jesus Christ through teaching. To the glory of God, there were various testimonies varying from deliverance to miracles of healing. In the next detailed report, we will share with you some of the amazing works that the Lord Almighty worked on with the team.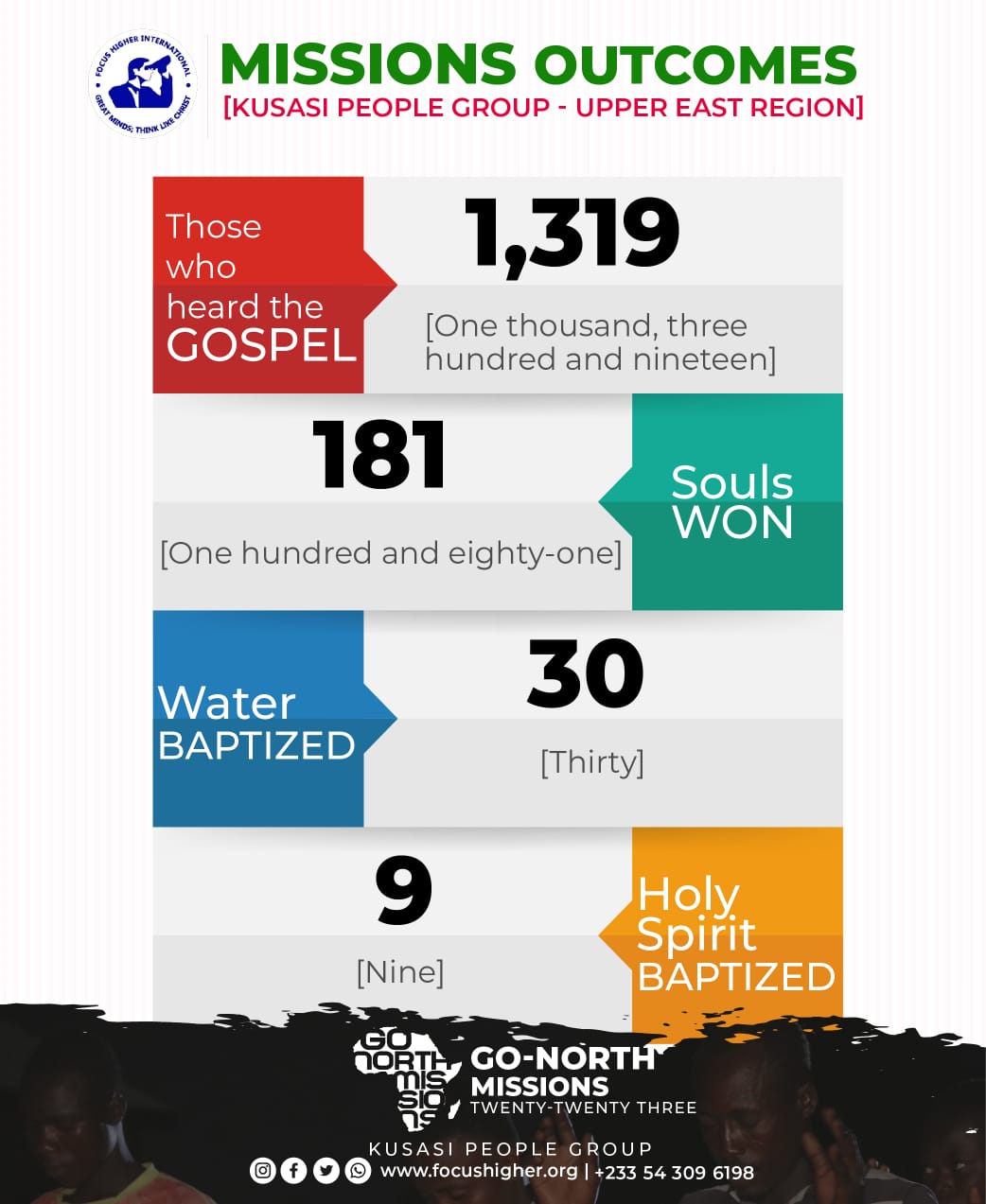 All the glory to God Almighty for working with us and confirming our words with signs and wonders.